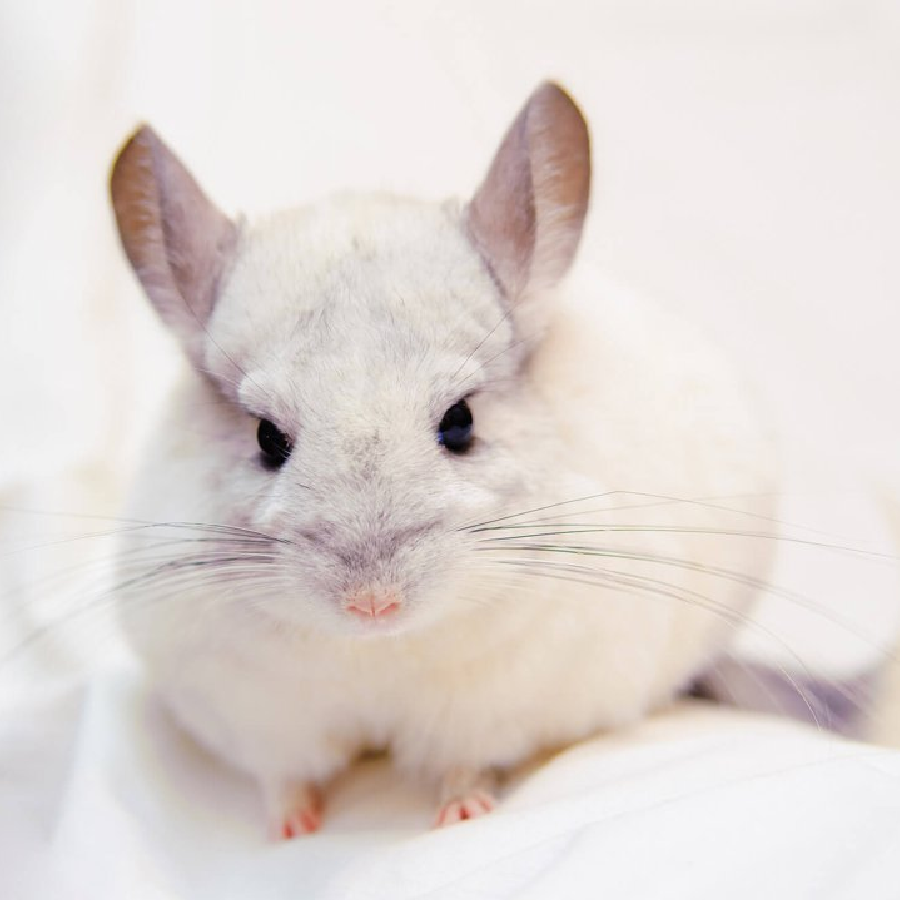 Things you need to know before getting a Chinchilla
THEY LIVE A LONG TIME
Chinchillas live at least as long as rabbits: about 10 to 15 years. Some even live to be 20 years old! So be aware that you're making a long-term commitment if you say yes to getting a chinchilla. On the other hand, you'll have plenty of time to build a close bond with your pet.
THEY'RE NOCTURNAL
You can leave for work in the morning with your peace of mind in tact: your chinchilla won't get lonely or into trouble as it will spend the whole day catching zzz's. In dreamland during the day, your pet only becomes active in the evening or at night. They are very light sleepers so you'll sometimes catch them taking a nap with their eyes open. Creepy or cute? You decide.
THEY'RE PACK ANIMALS
With a chinchilla, you're taking on pet that's a pack animal: they appreciate company. Think you might not have enough time to take care of it? Then get two. They're usually very gentle, both towards humans, their own species and other animals.
TOO DELICATE FOR CHILDREN'S HANDS
It's better not to buy or adopt a chinchilla if you have very small children. After all, they don't yet know how to handle a pet carefully. This causes your chinchilla to become stressed and pluck at its fur until it sheds.
FOOD? FIBER, FIBER AND MORE FIBER...
A diet that's high in fiber, with no need for fat or sugars, your chinchilla's food requirements are simple, but strict. Extruded pellets or muesli made to suit a chinchilla's digestive system and lots of quality Timothy hay is ideal. And don't forget fresh water!
THEY LIKE TO TAKE SAND BATHS
What you should definitely buy for your chinchilla is a sand bath. Your new pet won't wash with water because its coat is too dense and dries too slowly, which is a perfect breeding ground for mold.
KEEP IT CHINCHILLA-PROOF
Don't be fooled: these fluff balls might look chill but man, can they run! A prey animal, a chinchilla is very skittish and fast. Your pet can jump up to 1.5 meters! Keep that in mind when letting them on the loose. So now you know the basics to buy or adopt a chinchilla!
____
ILS VIVENT LONGTEMPS
Les chinchillas vivent au moins aussi longtemps que les lapins : environ 10 à 15 ans. Certains vivent même jusqu'à 20 ans ! Sachez donc que vous vous engagez à long terme si vous dites oui à l'achat d'un chinchilla. D'un autre côté, vous aurez amplement le temps de nouer des liens étroits avec votre animal de compagnie.
ILS SONT NOCTURNES
Vous pouvez partir au travail le matin avec votre tranquillité d'esprit : votre chinchilla ne se sentira pas seul car il passera toute la journée à dormir. Au pays des rêves pendant la journée, votre animal sera actif que le soir ou la nuit. Ils ont le sommeil très léger, vous les surprendrez donc parfois en train de faire une sieste les yeux ouverts.
CE SONT DES ANIMAUX DE PACK
Avec un chinchilla, vous vous attaquez à un animal de compagnie qui est un animal de meute : il apprécie la compagnie. Vous pensez ne pas avoir assez de temps pour vous en occuper ? Alors prenez 2 chinchillas. Ils sont généralement très doux, à la fois envers les humains, leur propre espèce et les autres animaux.
TRÈS DÉLICAT POUR LES MAINS DES ENFANTS
Il vaut mieux ne pas acheter ou adopter un chinchilla si vous avez de très jeunes enfants. Après tout, ils ne savent pas encore comment manipuler un animal de compagnie avec précaution. Cela rendra votre chinchilla stressé.
NOURRITURE ? FIBRE, FIBRE ET PLUS DE FIBRE...
Une alimentation riche en fibres, sans besoin de matières grasses ni de sucres, les besoins alimentaires de votre chinchilla sont simples, mais stricts. Des granulés ou du muesli adaptés au système digestif d'un chinchilla et beaucoup de foin Timothy de qualité sont idéaux. Et n'oubliez surtout pas l'eau!
ILS AIMENT PRENDRE DES BAINS DE SABLE
Ce que vous devez absolument acheter pour votre chinchilla, c'est un bain de sable. Votre nouvel animal de compagnie ne se lavera pas à l'eau car son pelage est trop dense et sèche trop lentement, ce qui est un terreau idéal pour les moisissures.
GARDEZ À L'ÉPREUVE DES CHINCHILLAS
Ne vous y trompez pas : ces boules de peluches peuvent sembler froides, mais peuvent courir très rapidement! Animal de proie, le chinchilla est très capricieux et rapide. Votre animal de compagnie peut sauter jusqu'à 1,5 mètre ! Gardez cela à l'esprit lorsque vous les laissez en liberté. Alors maintenant vous connaissez les bases pour acheter ou adopter un chinchilla!