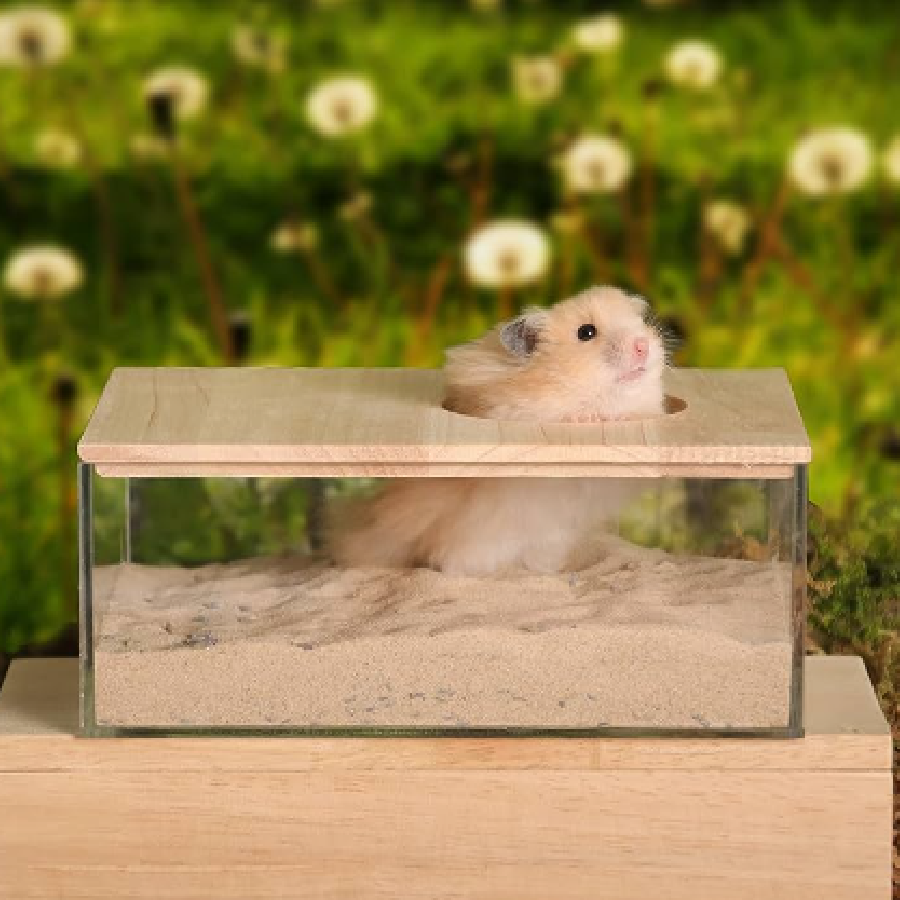 Exploring the Benefits of Sand Litter for Hamsters
Hamsters are adorable, low-maintenance pets that bring joy to countless households. When it comes to creating a comfortable and stimulating environment for these tiny creatures, choosing the right bedding is crucial. One option that's gaining popularity among hamster owners is sand litter. In this comprehensive guide, we'll delve into the world of sand litter for hamsters, exploring its benefits, how to use it, and why it might be the perfect choice for your furry friend.

Understanding Sand Litter
Sand litter, typically composed of fine, dust-free sand, serves as a natural substrate for hamsters. Unlike traditional wood shavings or paper bedding, sand offers a unique set of advantages for both your pet and you as the owner.

Benefits of Using Sand Litter for Hamsters
1. Natural Digging Instinct
Hamsters are natural burrowers, and they love to dig and tunnel. Sand provides the ideal substrate for them to exhibit this behavior, allowing them to create cozy underground hideaways.

2. Excellent Odor Control
One of the standout benefits of sand litter is its exceptional odor control. It absorbs moisture effectively and minimizes odors, keeping your hamster's habitat smelling fresh for longer.

3. Dental Health
As hamsters dig and move through the sand, they naturally wear down their nails and keep their teeth in good condition, reducing the risk of dental problems.

4. Easy Cleaning
Cleaning a hamster cage with sand litter is a breeze. You can scoop out soiled sand daily and replace it as needed, while a full cage clean can be done less frequently compared to other bedding options.

5. Hygiene
Sand is less likely to harbor harmful bacteria or fungi, contributing to a cleaner and healthier environment for your hamster.

How to Use Sand Litter for Hamsters
Using sand litter for your hamster's cage is straightforward, but there are some essential steps to follow:

1. Choose the Right Sand
Opt for dust-free, child-safe, and non-toxic play sand or chinchilla sand. Avoid using beach sand or sand with added chemicals.

2. Depth and Placement
Fill a portion of your hamster's enclosure with sand to a depth of around 1 to 2 inches. Place it in a designated digging area or one corner of the cage.

3. Regular Maintenance
Scoop out soiled sand daily, and replace it entirely when it becomes excessively dirty or clumped. Perform a full cage clean as needed, typically every 2-4 weeks.

4. Monitor Your Hamster
Observe your hamster's behavior and preferences. Some may enjoy digging and rolling in the sand, while others may use it primarily as a restroom area.

Sand litter for hamsters offers numerous benefits in terms of hygiene, odor control, and providing a natural outlet for their digging instincts. However, it's essential to monitor your hamster's comfort and cleanliness regularly. By choosing sand litter thoughtfully and maintaining it properly, you can create an enriching and comfortable environment that allows your furry friend to thrive. Enjoy the delightful antics and contentment of your happy hamster in their sand-filled haven! 
________
Découverte des Avantages de la Litière de Sable pour Hamsters

Les hamsters sont des animaux de compagnie adorables et faciles à entretenir qui apportent de la joie dans de nombreux foyers. Lorsqu'il s'agit de créer un environnement confortable et stimulant pour ces petites créatures, le choix de la litière appropriée est essentiel. Une option de plus en plus populaire parmi les propriétaires de hamsters est la litière de sable. Dans ce guide complet, nous plongerons dans le monde de la litière de sable pour hamsters, en explorant ses avantages, comment l'utiliser et pourquoi elle pourrait être le choix parfait pour votre ami à quatre pattes.

Comprendre la Litière de Sable
La litière de sable, généralement composée de sable fin et sans poussière, sert de substrat naturel pour les hamsters. Contrairement aux copeaux de bois traditionnels ou à la litière en papier, le sable offre un ensemble unique d'avantages, à la fois pour votre animal de compagnie et pour vous en tant que propriétaire.

Avantages de l'Utilisation de la Litière de Sable pour Hamsters
1. Instinct de Creusage Naturel
Les hamsters sont des fouisseurs naturels, et ils adorent creuser et creuser des tunnels. Le sable offre le substrat idéal pour qu'ils puissent exprimer ce comportement, leur permettant de créer des cachettes souterraines confortables.

2. Contrôle des Odeurs Exceptionnel
L'un des avantages les plus remarquables de la litière de sable est son contrôle exceptionnel des odeurs. Il absorbe efficacement l'humidité et réduit les odeurs, maintenant l'habitat de votre hamster frais plus longtemps.

3. Santé Dentaire
En creusant et en se déplaçant dans le sable, les hamsters usent naturellement leurs griffes et maintiennent leurs dents en bonne santé, réduisant ainsi le risque de problèmes dentaires.

4. Facilité de Nettoyage
Nettoyer une cage de hamster avec de la litière de sable est un jeu d'enfant. Vous pouvez enlever le sable souillé quotidiennement et le remplacer au besoin, tandis qu'un nettoyage complet de la cage peut être effectué moins fréquemment par rapport à d'autres options de litière.

5. Hygiène
Le sable est moins susceptible d'abriter des bactéries ou des champignons nocifs, contribuant à un environnement plus propre et plus sain pour votre hamster.

Comment Utiliser la Litière de Sable pour Hamsters
L'utilisation de la litière de sable pour la cage de votre hamster est simple, mais il y a quelques étapes essentielles à suivre :

1. Choisissez le Bon Sable
Optez pour du sable de jeu sans poussière, sans danger pour les enfants et non toxique, ou du sable pour chinchilla. Évitez d'utiliser du sable de plage ou du sable avec des produits chimiques ajoutés.

2. Profondeur et Placement
Remplissez une partie de l'enclos de votre hamster avec du sable sur une profondeur d'environ 2,5 à 5 centimètres. Placez-le dans une zone de fouille désignée ou dans un coin de la cage.

3. Entretien Régulier
Enlevez le sable souillé quotidiennement et remplacez-le entièrement lorsqu'il devient excessivement sale ou aggloméré. Effectuez un nettoyage complet de la cage au besoin, généralement tous les 2 à 4 semaines.

4. Surveillez Votre Hamster
Observez le comportement et les préférences de votre hamster. Certains peuvent aimer creuser et rouler dans le sable, tandis que d'autres l'utilisent principalement comme zone de toilette.

La litière de sable pour hamsters offre de nombreux avantages en termes d'hygiène, de contrôle des odeurs et de fourniture d'une sortie naturelle pour leur instinct de creusement. Cependant, il est essentiel de surveiller le confort et la propreté de votre hamster régulièrement. En choisissant soigneusement la litière de sable et en en prenant bien soin, vous pouvez créer un environnement enrichissant et confortable qui permettra à votre ami à quatre pattes de s'épanouir. Profitez des comportements amusants et du contentement de votre heureux hamster dans son havre de sable !